Being a Purina Certified Expert Dealer means that we offer a complete line of quality Purina feed products and have knowledgeable associates who care first about our customers, and their animals. Training is a key element for our Certified Expert staff and you can depend on us for Certified Expert advice!
Expert Articles & Advice
May 1, 2013
The iconic image many people think of when they think of dogs digging holes is the dog proudly putting a bone in it and covering it back up. In reality, this can leave you with a lot of holes in the ground.
May 1, 2013
Often times the thing most people associate with horses is racing. Whether it's at the Kentucky Derby or Saratoga Springs, horses prove time and again to be powerful animals. But along with their strength is a sickness that can be a major weakness. According to ultimatehorsesite.
Special Offers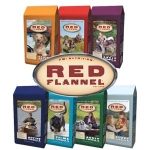 As a part of our customer loyalty program, we are offering buy 8, get 1 free on Red Flannel dog foods!
Purina Equine Videos
At Purina, we've spent more than 100 years developing superior nutrition for horses. After numerous scientific formulations, trials and refinements for our new line of supplements, we've found ways to give horses the boost they need to be their best.
Quick Contact & Hours
Manager: Corky and David
19763 Hwy 314
Belen, NM 87002
Phone: 505-865-5432
Fax: 505-865-8426
Email:
oldmill@nmia.com
Mon - Fri
8:30 am - 6:00 pm
Manager: Dominic Salvo
1912 Old Hwy 66
Edgewood, NM 87015
Phone: 505-286-4115
Fax: 505-286-4119
Email:
oldmill@nmia.com
Mon - Fri
8:30 am - 6:00 pm
Manager: Josue Gallegos
2353 Hwy 47
Belen, NM 87002
Phone: 505-864-4766
Fax: 505-864-3022
Email:
voice1k@yahoo.com
Mon - Fri
8:30 am - 6:00 pm